Any trip with kids can be tiresome and frustrating. You must compromise – you'll either do less for their sake or you risk getting them tired and angry. However, doing less in Bali is a shame; anyone should be making the most of their stay. Here's the solution: have a look at the activities, opportunities and suggestions that can make it all fun and convenient for the entire party.
Driver + car hire for day tours
Did you know that there's a much more convenient alternative to the standard, crowded, often rushed and potentially overpriced day tours in Bali? In every area there are local drivers who can take you to all the best places. There will be only you and your dear ones, traveling at a pace that is good for you. You'll no longer have to keep up with the group, wait for your turn to take photos or bother everyone around if your child throws a tantrum. Private day tours are easily available and a little bit of shopping around can bring forth the better fares.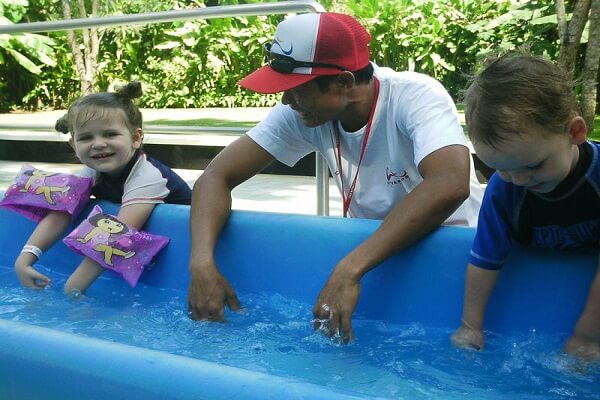 Top notch accommodation that's almost like home – only better
It's a fact that the accommodation can make or break anyone's holiday, regardless of age. Since it will matter so much to your kids as well, then why not book something that pleased everyone? Nothing can beat private villa accommodation – especially knowing the affordable Bali prices. The luxury beach villas Bali are everyone's favorite, as these are well equipped, modern and offer breathtaking views – with no effort whatsoever to reach the beach.
Waterparks – all day long enjoyment for any age
If you're afraid of venturing on open water to sail or surf, you can still have fun in the water, in a much safer way. Bali is home to some splendid waterparks, like the Waterbom Park, which seems to be the best in Asia, or the Splash Waterpark. These have very exciting jungle slides and many facilities for small kids under the age of 8. It's fairly easy to have everyone in your family pleased for the whole day if you opt for this.
Treetop adventures are anyone's dream
Grown-ups can make their childhood dream come true, while children will feel exhilarated at the sight of treetop adventure parks in Bali. If your kids have much energy to spend, this is the perfect way to get them tired by the end of the day. Such parks are built in the Balinese jungle, which makes them all the more exciting. Check Tabanan or Bedugul to see what it's all about. You can even get the wonderful combination of treetop adventure park and botanical gardens.
Bali's farms – educational and fun
Not only that kids can view and play with animals, but they can learn a thing or too as well. Besides the usual (which will still be unusual to the tourist), visitors can also view vineyards and even an underwater coral farm with some stunning sights. Perhaps one of the most appealing experiences here would be the chocolate factory at Big Tree Farms Bamboo, where you can watch the whole production process.
The Bali richness is hard to match. If you make a little effort to go beyond the standard travel packages, you can tailor a holiday that pleases children and adults alike.