Bali is a dream place for various reasons. Black and white sands beaches, green and immense rice terraces, affordable yet amazing spas, friendly people and an almost endless list of activities, all working together giving you a remarkable experience. To make your planning easier, here are a few must-do activities, so keep reading to find out more.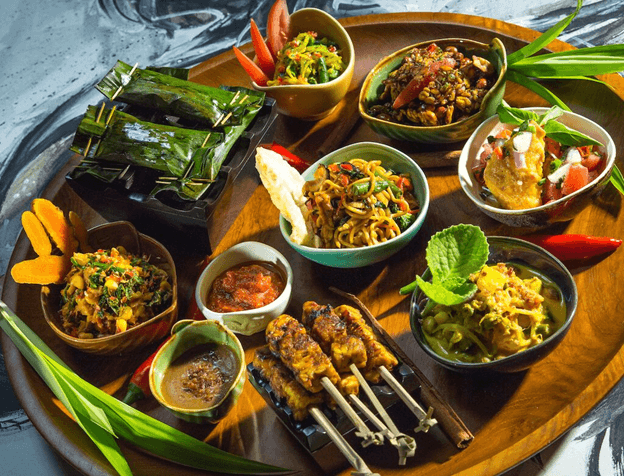 In Bali, you will want to try an amazing spa experience. Imagine getting pampered while listening to relaxing music and getting the most soothing massage you've ever tried. For this, you'll have to go to the best spa Bali, called AMO Spa. You have a variety of locations to choose from, since this amazing place is situated in Petitenget, Seminyak, and Canggu, and provides unbeatable beauty treatments. Here you can find all the treatments you've dreamed of, covering hair, nail, beauty, and massage treatments. Just let your worries go away and book your must-have experience at AMO Spa.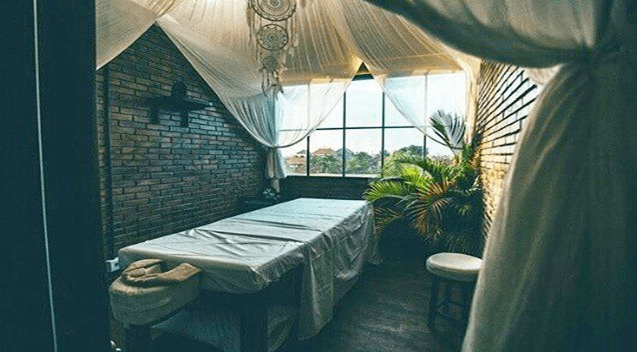 Now that you're all relaxed, are you up for an adventure? There is no way you can see Bali in its true colors without a Bali Quad tour provided by the best professionals on the island. Bali Island ATV provide you powerful automatic quad bikes, ranging from 500 CC to 700 CC, to take you on your adventure. Ride across deserted beaches, through expansive landscapes of emerald green rice paddies and through local villages all under the expert guidance of their friendly English speaking guides.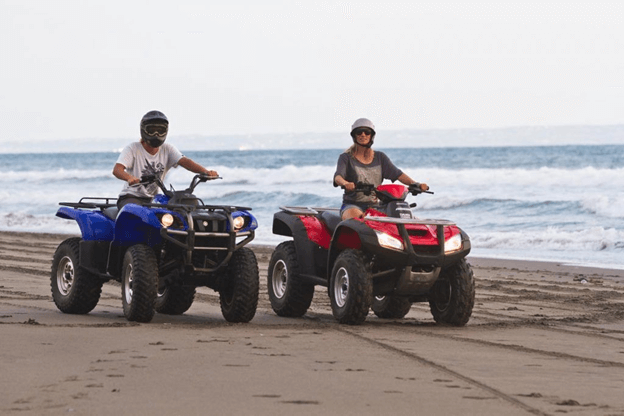 In Bali, not only can you get to stay in amazing places with gorgeous views for a reasonable price, but also enjoy the delicious dinner options.  If you're looking for one of the very best restaurants in Seminyak, head to Sea Vu Play in Petitenget. With maritime inspired décor, this place is fun and lively and the music is excellent. Their Cocktail list is extensive, so you'll never be short of a new drink to accompany your meal, or your dancing.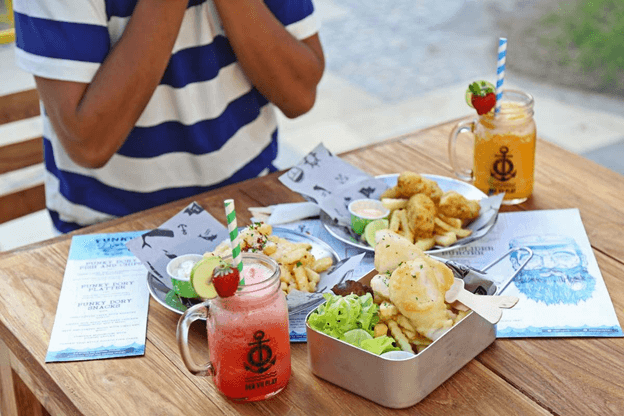 In a nutshell, Sea Vu Play is the best place for outdoor fun, eating, drinking, and weekly parties in Seminyak. This is not all that's in the menu –  everything is well thought and there are activities from 11:00 a.m. onwards. Treat yourself to cocktails, delicious fish 'n' chips, and a Mediterranean tapas menu. How about dining in the evening or dancing the whole night in the Rum Jungle lined with palm trees?
One of the main steps after you book your ticket to Bali is to research the best options for accommodation. If you're traveling with friends or extended family, a  3 bedroom villa Bali could be a great option for you. For example, Hu'u Villasthree bedroom penthouse villa allows you to experience luxury in the heart of Seminyak . Huge rooms, a 12-meter private pool, king-sized beds and 5-star service from the amazingly friendly staff who will make sure all your needs and requirements will be taken into consideration make this a fantastic place to stay.  Not to mention, you will also benefit from a  one-way airport transfer, and premium membership at Finns Recreation Club.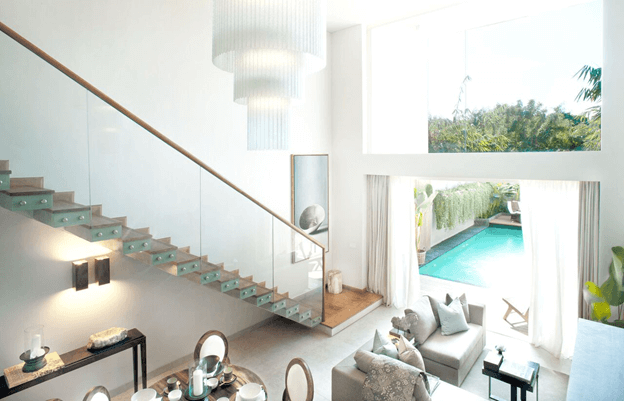 Once you get there, just slide the doors and step outside in the Balinese tropical vibe and enjoy everything that Bali has to offer.
If the suggestions offered so far don't make you happy, try the true experience of Bali in one of the luxurious Ubud villas. Bali villas in Ubud look like captured from movies. Ubud is known as the spiritual, cultural, and arts center of Bali.  What does Ubud look like? Imagine you will discover giant trees with low hanging branches, mystical waterfalls, rushing rivers, jungle and fascinating landscaped of rice fields. The actual centre of Ubud is a small but vibrant area filled with healthy restaurants, various spas and souvenirs shops.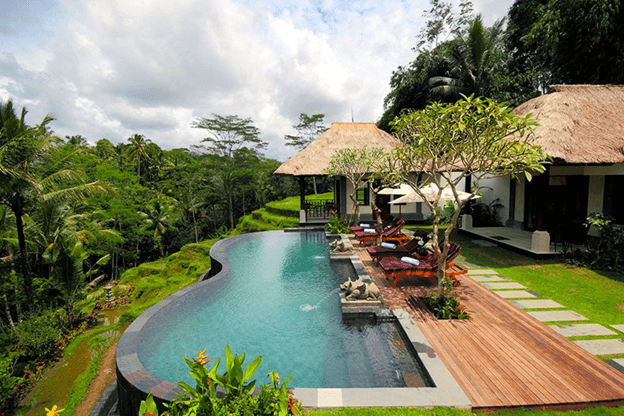 If you want to try this once-in-a-lifetime experience, count on Bali Villas and More to help you out when looking for your perfect spot! How can they help? They maintain a database with the best options available, so you just have to enter their website and they will do the best search for you, according to your needs.
The best advice when it comes to planning your trip to Bali is to have a plan sketched out just to make sure you don't miss anything. Maybe you'll want them all – reef diving, scuba diving, snorkeling, and so much more? Don't worry about identifying and organizing the best tours and activities, since the experts from Bali Tours and More take care of it. Just let them know which activities you'll like to do and your budget, and they will be your best help, coming with the perfect suggestions according to your preferences.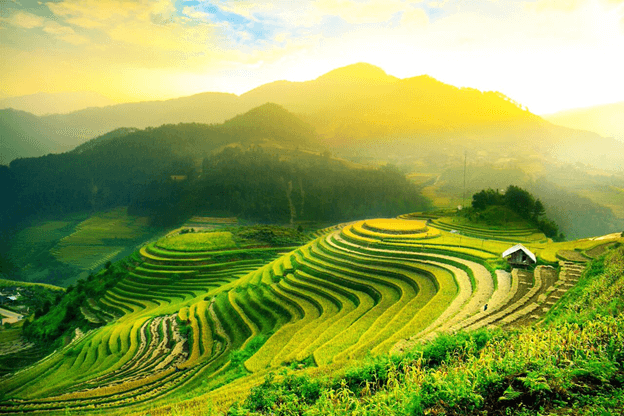 And if you'll want to find the best possibilities out there when it comes to accommodation, try using the help of the experts from Bali Hotels and More. They are the team who will ease the painful planning and roaming through all the websites for you. How do they help? They have a database with the best hotels in and around Bali. You can be sure that not only will you be getting great advice form people who really know Bali, but you'll also be getting the best prices too!
Another suggestion during your holiday is to go for a few days trip to the Gili Islands.  Consisting of Gili Air, Gili Trawangan, and Gili Meno, these 3 magical places have all you need: relaxation, fun and chilling spots next to turquoise water. All you have to do is book your trip with a fast boat Gili with Patagonia Xpress, since they got it all. The newest and largest fast boat operating a daily schedule from Bali to GIli Trawangan, Gili Air and Lombok before returning to Bali, the oat offers and air conditioned saloon, complete with flat screen TVS playing movies and free Wifi throughout your journey, or you may wish to soak up the sun and take in the view by travelling up on the open deck. Book securely and conveniently online, enjoy the benefit of complimentary transfers from the main tourist areas in Bali and the security of knowing that boat is equipped with latest safety and navigation equipment to ensure a safe passage.