You face lots and lots of Problems while traveling in Indian Railways. It's not because of the quality but because of Number of people traveling. In India, more than 12,000 Passenger Trains Operate on Daily Basis. It is not easy for Indian Railways to Maintain the quality, but they do! Salute!
In Trains, You see some people selling a different kind of foods, but According to my Experience, The Quality of that food isn't that good! I traveled a lot in Indian Railways, and According to me, It's good to Order Food Online for trains!
Indian Railways is Growing and Also Indian Startups, Here in this article, I will tell you about some Good sites from which you can Order your Food Online for your Train Journey!
You have to do, and You will get Food Directly on the Desired Station!
Visit Any of the Following Site.

Enter Information of Train you are Travelling in.

Select Menu.

Get Your Food Delivered on Desired Station.
So, How they do it? They get Train Information from Train Number. After that, They will make your Food in Local Restaurants and Deliver it to you!
Coming Back to the Point, Let's get started with the sites from which you can Order Train Food Online!
1. www.ecatering.irctc.co.in
IRCTC E-Catering Site is on First because IRCTC manages it! IRCTC Websites Get Millions of Visits a day, and It handles Millions of ticket bookings Every Day! Let's talk about the process to Order Food On IRCTC E-Catering Website.
You will see a form on the website just like the following Image.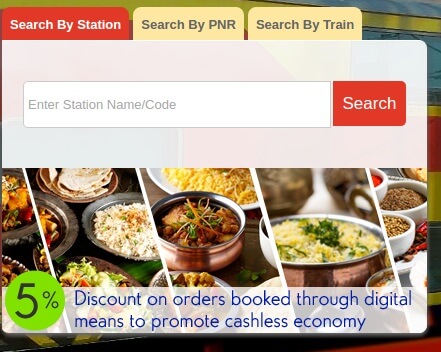 First of all, You Have to Search By Station or PNR or Train to get the Menu and Complete the Process. To support Cashless Economy, You will get 5% Discount If you Pay Online.
Coming Back to the point, You have to Enter Station or PNR or Train to Identify The Schedule of Your Train. After Entering any of the information out of 3, You will get Menu to Select Food!
You can Select Your Dishes and Pay Online if you want. If you don't want to Pay online, You can also Pay on Delivery Of food on the desired Station!
In case if you have any questions about this website, you can call on Toll-Free Number or Request A call directly from the website. Again I want to say; It's an excellent choice to order food online while traveling in Train!
Now, Moving on to Other sites. We will Not Cover Process of each web site Because the Process to Order food is Same for All the websites!
2. Other Best e-catering Websites!
RailRestro.com – It's Very Very Easy to Order Food through this site, You just Have to Enter PNR, Select Food, Pay and Get your Food at your Seat!

KhanaGadi.com – KhanaGadi.com offers Jain and Diabetic Food too! That Makes it Unique and Special! You can Download their App if you are Regular Indian Railways Customer.

YatraChef.com – YatraChef.com is Special Because you can Actually Order your Food through Whatsapp! Yes! Just add them to your Contact List and you can order your food through Whatsapp!
So, These are the sites you can used to Order your Train food online and get it delivered On your Seat! If you have any questions regarding this article, You can comment them down and we will help you solve your queries as soon as possible. If you know about good Websites to order food online for train, Let us know in Comment Section and we will add it to the list!