You probably already know that Smyrna, Georgia is a great place to visit — whether for a weekend or for a longer stay. But did you know that a trip to Smyrna can also be very budget-friendly? Stay in one of the great hotels in the area, and spend some time visiting some of the free attractions in Smyrna and nearby towns.
Visit Tolleson Park
One of the coolest parks in the Greater Atlanta area, Tolleson Park offers a wide variety of activities for locals and visitors alike. In addition to space for hiking or biking, the park also has six tennis courts, a swimming pool, a baseball field, plenty of space for picnics, and even a beach volleyball court. This is an awesome place to pass a lazy Georgia afternoon — especially in the summer or fall, when the scenery is at its most beautiful.
Explore Vinings Gallery.
While you can't take the art for free, the Vinings Gallery is an excellent option for a free date in Smyrna. You can explore the impressive collection of works from local artists, and even watch the gallery owner paint if you arrive at the right time. Any visit to the Vinings Gallery is sure to be a unique experience that you will enjoy.
Browse the Smyrna Public Library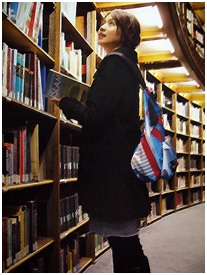 Image via Flickr by Atrix Uuebu
The Smyrna public library is the oldest operating library in Georgia, and is worth a visit, if only for that reason. While library cards are only available to locals, anyone is invited to browse the vast collection of new and old books, and marvel at the history of the place. This is a great free option for a rainy afternoon in Smyrna, or for anyone who loves books and reading.
Visit the Marietta Confederate Cemetery
One option for history buffs is a visit to all of the important Civil War locations around the area. If that's the experience you're looking for, then the Marietta Confederate Cemetery should definitely be on your list of places to see. Established in 1863, it is actually the oldest Confederate cemetery in Georgia. There are more than 3,000 Confederate soldiers buried in the vast cemetery, making it a significant site for visitors looking for a historical experience in and around Smyrna.
Stroll around Marietta Square
This suggestion may not be entirely free since you will inevitably want to shop at one of the adorable shops and boutiques that line the streets of Marietta Square, but you can totally lose yourself in this cute part of Greater Atlanta for several hours without spending a dime. Marietta Square boasts dozens of shops, restaurants, and entertainment hot spots, of course, but you can also enjoy the picnic areas and playgrounds or explore one of the many gift shops in the square. There are so many attractions and things to do here, your whole family will be entertained.
Smyrna is a great place to visit, and it doesn't have to break the bank. With plenty of free and inexpensive options for entertainment, you will find something to do that fits both your taste and your budget.