Pachislot is one of the most popular mechanical games that have originated in Japan. People tend to play this game as an arcade game or as a gambling activity. This game is similar to slot machines that you can find in Western world.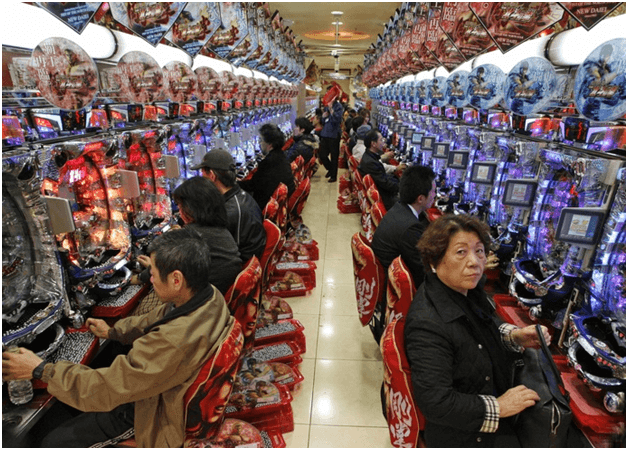 A Pachislot or パチスロ in Japanese, is a machine that looks more like a vertical pinball machine. However, there are some clear differences in between Pachislot and Western pinball. For example, Pachislot uses only small balls that are made out of steel. The diameter of a ball is about 11mm. Pachislot balls are associated with the prize and the bet as well. While playing a Pachislot game, the player will have to load one or more balls into the device and launch it into the metal track. Then the metal track would direct the ball throughout the playing field and at the point where ball loses its inertia, it would fall into the field. In some of the Pachislot machines, you will be able to see a bumper, which makes the ball to reach to the top.
Pachislot game is played by people who live in all parts of Japan. The games are being played with a variety of slot machines as well. These slot machines are named as pachislots or pachislo. The venues where you can see the Pachislot games operating are somewhat similar to casinos. The Pachislot machines that you can find out there can be customized in order to keep the players engaged.
If you want to play Pachislot, you would need to get some metal balls. These balls are usually provided by the vendor. Once you have the metal balls, you can insert them to the machine along with a payment via cash or card to start the game. You can use the lever to shot the balls into the machine. Then you will be able to see balls falling vertically from an array of traps, cups, levels, pins and other obstacles. The primary objective of you should be to keep away balls from falling into the ground. In fact, the primary objective should be to remain in the game as much as possible.
When you are playing Pachislot, you could be benefited by having more balls. However, you will not be allowed to ask for more balls after you start playing. Along with time, the slot machines used in Pachislot have also been developed. For example, the latest Pachislot machines come along with digital a screen, which helps players to make their lives easy. On the other hand, these digital screens offer digital animations, which can deliver an exciting gameplay experience to the players.
Pachislot game is associated with different payout modes as well. If you are playing the game for gambling purposes, you will need to have a clear understanding about these payout modes. Or else, you can just play it with your friends to enjoy the fun and excitement offered. It would be a wonderful arcade game to spend your time on.