Mumbai is all about cutting chai, spicy vada pav, messy kathi rolls and guilty deserts. The people of the city love their food and also make the outsiders ditch their diet and like the food. So if you are new in Mumbai or are here on a business/educational tour, get ready to taste the cuisine that has been shaped by centuries of seasoning by the Portuguese and British colonists, fishermen and Muslim sultans. Here's a list of few places where you can eat like a local in Mumbai.
1. Pav Bhaji at Sardar's: Located near Mumbai Central station, this place is famous for serving mouth-watering pav bhaji. The bhaji they serve is steamy, spicy and tangy. One visit to Sardar Pav Bhaji and you have tasted the finest food in Mumbai.
2. Kheema Pav at Gulshan-e-Iran: Specialising in Mughlai delicacies, Gulshan-e-Iran serves everything from Kheema Pav to Chicken Tikka Masala and Garlic Naan. They also have Rabdi Kulfi and Firni for those with the sweet-tooth.
3. Samosa with Chola at Guru Kripa: Tuck into hot and spicy samosas at Guru Kripa in Sion. Though the menu comprises of 50 items, the favourite among people still remains samosa. The place daily supplies samosas to Bandra theatre complex and important public figures' offices, and sees a large footfall of celebrities.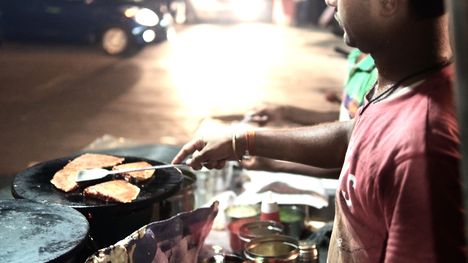 4. Pani puri at Elco Pani Puri Centre: Located in one of the posh areas of Mumbai, Elco Pani Puri Centre is a place for all the pani puri lovers in town. From tangy cold pani puri to chaats and hot ragda pattice and dosas, they serve it all.
5. Chicken tikka rolls at Bademiya: This place is a hub for chicken lovers and if you have not been here than trust us, you are missing out on a big deal. Bademiya is an open-air kitchen on wheels and is situated behind the Taj Mahal Palace Hotel. Head to this outlet to taste the finest chicken tikkas and a lot more finger-licking stuff in town.
Well, this is just a small list of places to relish the most delicious food in town. Apart from street food joints, there are a number of hotels in Mumbai that cater to the needs of guests visiting the city from different parts of the world. The hotels not only serve amazing food but also give its guests a comfortable stay option. So if you are in Mumbai on a business or a leisure tour, you can check out various hotels at Dadar in Mumbai to make your stay pleasant and worthwhile.